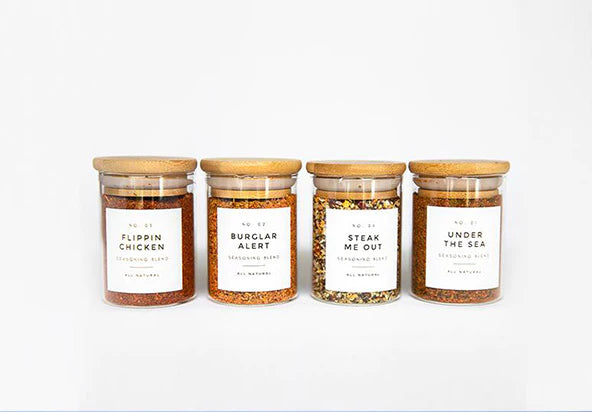 Different types of rubs are available in the market to make the perfect barbecued chicken. But if you want to try something new & flavorful, Flippin Chicken is the rub for you! Just rub it on the chicken before you cook it, and you'll be rewarded with a moist, delicious chicken that tastes great. You will get the best-tasting chicken you'll ever make on the BBQ. 
This blog will cover the difference between BBQ rub and seasoning, the best BBQ chicken rub, and a few recipes. Let your mouths drool!
BBQ Rub vs. BBQ Seasoning
Often people get confused between barbeque rubs and seasonings. We're here to highlight the differences between BBQ rubs and seasonings. The most significant difference between the two lies in how they are used. Dry rubs are added before cooking, and seasonings are used to season the chicken, which means it is sprinkled after cooking.
Basically, you can say that a dry rub is a seasoning used on uncooked chicken. And why is that great? Because of how convenient they are! Unlike marinades, BBQ rubs don't require extra time to flavor the chicken before you pop it on the grill. Also, dry rubs deliver a crisp exterior - a hallmark of good BBQ! Trust us when we say nothing beats a dry rub when it comes to seasoning chicken.
That said, we might just have the perfect BBQ rub for your chicken - something you'll love!
Flippin' Chicken - The Best BBQ Chicken Rub!
We understand everyone has different tastes, and there's definitely no correct answer when it comes to flavor. But if you want to spice up your BBQ and give it a new flavor, get your hands on Flippin' Chicken. It will be a great addition to your grilling! Not only will it add flavor to your chicken, but it will also make barbecuing fun.
This chicken seasoning blend is flavorful and includes a balanced sweetness from added granulated honey. It is excellent in the oven but even better on the grill. It is a pretty simple mix of hand-blended spices, including California paprika, onion, chili powder, lemon, granulated honey, sage marjoram, black pepper & celery seeds.
It's time now that you indulge in the flavor of this fantastic rub. Below are a few hand-on chicken BBQ recipes for you to try!
3 Drool-Worthy BBQ Chicken Recipes
Try these recipes or add your uniqueness to them to enjoy savory barbecued chicken.
Smoked Chicken
Preheat the smoker to 225-250 degrees.
Rub Flippin' Chicken BBQ rub all over the chicken.
Smoke chicken at 225-250 degrees until the internal temperature of the chicken reaches 165 degrees.
It might take 2-5 hours to cook, depending on the size of the chicken.
Tent the smoked chicken with foil and let it rest for 15 minutes.
Serve it hot
Beer Can BBQ Chicken
Pat chicken dry with a paper towel.
Slather chicken all over and rub it with your favorite BBQ rub.
Preheat the grill.
Open a beer can and slide the bottom of the chicken over the can so it stands up on its own.
Cover grill and cook chicken for 90 minutes. Ensure you rotate the chicken a quarter turn every 15 minutes.
Baste it with BBQ sauce with each turn.
Slow Cooker BBQ Picnic Chicken
Rub the chicken with the flavorful Flippin' Chicken BBQ rub.
Put the seasoned chicken and other ingredients in a slow cooker.
Set the cooker to low and cook for 3-4 hours.
Make sauce and broil.
Toss broiled pieces with BBQ sauce and serve hot.
Apart from the chicken BBQ rub, we also offer other 3 other BBQ rubs for steak, burgers, and seafood. Our online spice set collection includes:
Steak Me Out: Hand blended from black pepper, garlic, onion, shallots, course sea salt, red pepper flakes & guajillo flakes.
Burglar Alert: Hand blended from brown sugar, paprika, sea salt, oregano, marjoram, onion, garlic, rosemary & yellow mustard powder.
Under the Sea: Hand blended from roasted garlic, minced onion, dill, celery, parsley, sea salt & lemon peel.
You can purchase our Grill Package, which includes all 4 BBQ rubs in pre-labeled, air-tight glass bamboo jars.
Conclusion
We hope you enjoyed reading this blog post about the best BBQ chicken rub. It's September, and we want you to enjoy the last few BBQ months of the year to the fullest. So what could be better than savoring barbecued chicken wrapped in sweet & spicy BBQ rub?
It's hard to find a better way to cook chicken than on the BBQ. Some like to grill/barbecue chicken in the oven, but the flavor isn't quite the same. Barbecuing chicken gives it a distinct, smoky flavor that can't be matched. We have mentioned a few recipes in the blog to help you get started. So, what are you waiting for? Fire up the grill! And try unique BBQ chicken recipes with Flippin' Chicken.